Services
twitter (X) Influencer Marketing
Packages and Customized Solution Planning
Precision influencer Matching
One-Stop Integration with Guaranteed Reach
WEB3 CorporateTraining / Course Instruction
Blockchain Influencer Training
Futures Contract Trading Courses
Corporate Crypto Training
Entrust us with the most impactful X/Twitter influencer resources!
What are the advantages of influencer marketing
on X/Twitter compared to advertising
on other social media?
Authenticity and Trust
Influencers typically have genuine and loyal followers, making their recommendations and content more trustworthy.
Direct Interaction
Influencers on X/Twitter can directly interact with their followers, responding to questions, sharing opinions, and helping build closer relationships.
Precise Target Audience
Influencers often have specific audiences, enabling brands to promote to a particular target audience effectively.
Performance Assessment
Compared to verifying the costs of advertising on other social media platforms, influencer marketing's benefits, particularly in terms of precise targeting, may be easier to measure, and cost control may also be more manageable.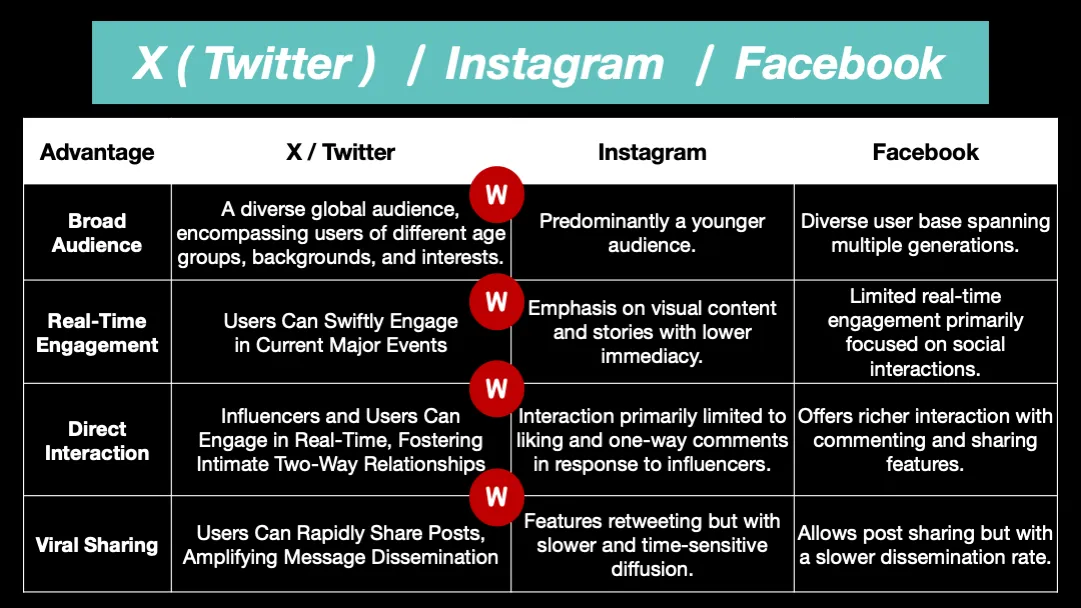 How do the reach and conversion metrics perform on X/Twitter?
Is it a platform that consistently delivers measurable results?
Due to X/Twitter's real-time and highly interactive nature, its reach is exceptionally high and precise. Content can effectively engage the audience and potentially lead to higher conversion rates.
Extended Content Lifespan
When users retweet or reply to tweets, this content continues to appear on their followers' timelines. This helps extend the lifespan of the posted content, increase exposure, and provides a better chance of spreading among a wider audience. This, in turn, enhances brand awareness and attracts new followers and audiences.
Successful Cases
Collaborative promotion with KOL - Mercek
for the Alpha Radar Bot project
achieved a natural traffic reach of 38K.
Collaborative promotion with KOL - yeye
to promote the Mahjong Meta project resulted in a thread post that sold out
within 24 hours during the bear market.
Collaboration with KOL - shah
for the Rollbit project resulted in:
1,700 new monthly depositing users among followers.
Monthly trading volume surpassing 46,000,000.
Impressive reach of 233.4K.
Collaborating with GemsScope to promote the Michelin Web3 project, serving as an interface for a Web2 enterprise entering the Web3 space.
Promoting the GASH project, ZKaizoku
resulted in a rapid growth of engagement from 2.6K to 17K within 12 hours,
with an increase of 3,000 new followers.
High Reach, High Engagement, and Rapid Growth.
What Are You Waiting For?